Pancake is a western breakfast, which is easy to prepare and is a delicious and nutritious meal. The American pancakes are the same as the French crepes, but they are thicker because they contain yeast, an ingredient that makes the dough rise, and its texture is spongier. The pancakes can be sweet or savory, depending on the time or your taste. The basic ingredients of a healthy pancake recipe are milk, flour, egg, butter, sugar, and yeast. You can accompany them with an infinite number of combinations, chocolate, honey, cream, raspberries, bananas, nuts, or if you prefer, you can give it a savory touch.Here are our healthy pancake recipes:
American Pancake
For cooking the American pancake, you need the following:
Ingredients:
1 cup of white flour.
Pinch of salt.
Two teaspoons of baking powder.
Two teaspoons of white sugar.
Two eggs.
A cup and a quarter of liquid milk.
Three tablespoons of corn oil.
Preparation:
Mix the eggs with both milk and corn oil. Mix in another bowl the flour, sugar, salt, and baking powder, then make a hole in the middle of the flour and pour the egg mixture into it, then mix it well until you get a thick dough, then let it rest for a quarter of an hour. Bring a flat pan on the fire and grease it with oil, then distribute the dough in circles, and when the bubbles appear, turn the pancake on the other side until you get the golden color. Repeat until all dough is finished.
Healthy pancake recipe (Light)
Ingredients:
A cup of brown flour.
A cup of skim milk.
1 egg.
1 tablespoon of vanilla.
3 and a half tablespoons of maple syrup.
1 tablespoon of vegetable oil.
1 teaspoon of baking powder.
3 medium-sized bananas.
Preparation:
Put the egg with vanilla, oil in a deep bowl, then whisk the ingredients together with a hand mixer until they become homogeneous. Sift the flour and baking powder together, then start adding them to the egg and milk mixture gradually until you obtain a liquid paste completely free of any clumps.Heat a non-stick frying pan and put a little oil in it. Pour the pancake dough into the pan using the ladle, and in an amount suitable for the size of the surface of the frying pan, then move the pan in a circular motion until the dough is spread over the bottom of the pan well, wait a minute until the dough is browned from the bottom, then flip it over on the other side until it becomes reddish too, and put it on a side dish.Repeat the steps until you finish the entire amount of dough, then put the pieces on top of each other in a serving dish. Pour a maple syrup on the pancakes and garnish with banana pieces, and serve.
Related: How to make pasta?
Gingerbread pancakes with syrups
You can choose one of the two syrups to serve with this particular simple and healthy pancake recipe. Either a syrup with some helpful nutritional value or bottled sweet pancake syrup.
Ingredients:
1 cup of flour
2 and 1/2 teaspoons of cinnamon
1 and 1/2 teaspoons of powdered ginger
1 teaspoon of baking powder
1/2 teaspoon of baking soda
1/2 cup of milk
1 egg.
1/2 cup of molasses (no alternative).
2 tablespoons of oil.
Preparation:
In a medium blending bowl, combine the dry components; the flour, cinnamon, ginger, baking powder, and soda. Include a generous pinch of salt, if desired. Stir well to combine.In a separate bowl, whisk together the milk, molasses, egg, and oil. Contribute to dry components, blending just up until the dry active ingredients are damp.In a lightly greased and preheated frying pan or griddle. Spoon about 1/4 cup of batter for each pancake. Prepare up until lightly browned on both sides. Turn the pancake when surface area bubbles and underside are gently browned.
Nutritional value for about 3 servings
Per serving (without syrup):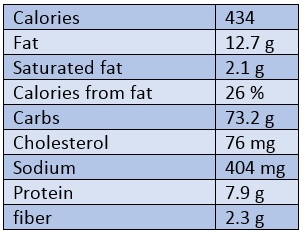 Serve the pancake with either of these syrups
Cranberry-Orange Syrup
In a medium pan, integrate 1 cup of light corn syrup, 1/4 cup defrosted orange juice concentrate and 1/4 cup whole-berry cranberry sauce. Give a boil. Minimize heat and simmer 3 minutes without stirring. Watch to avoid the syrup from foaming over. Get rid of from heat and chill to thicken. Serve at space temperature or warm.
Nutritional value for about 6 servings
Per serving:
Apricot-Orange Syrup
In a mixer or food processor, mix 1 (15 ounces) can drained pipes apricot halves, 1/3 cup light corn syrup, and 1/3 cup orange juice. When smooth, warm, if preferred, and drizzle over gingerbread pancakes. Excellent with waffles topped with navel orange segments or strawberry halves. Makes 6 servings.